Hey y'all! I know I said I probably wouldn't be here today but, I AM!
Just popping in for a few minutes to talk about America's favorite bachelorette... Emily Maynard!
Yes, I've been watching the show since this season started, I just have had time to voice my two sense!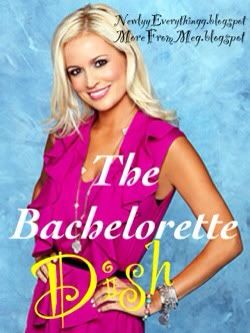 1. Let me just say that I think Emily looks absolutely gorgeous all the time! She made a comment last night that she doesn't workout - ever. What a bish!
2. Her date last night with Doug was so sweet. The fact that he started a charity just to show his son that 1 person really can change the world, that's amazing! I really like Doug & have from the beginning but, like Emily I think there is something there that is not so perfect. I don't know, I guess we'll just have to wait & see.
3. The group date: the competition had to be a little awkward for Emily. I think it would be at least. The yellow team won which I didn't like because Ryan was on that team & I'm not really a fan of Kalon, AND I don't really think Jef is her type of guy. What, you didn't know Emily & I are friends so I know her type? However, Arie was on that team so at least there was one guy that she has a good connection with.
4.
Ryan = douche!
Really that's all that needs to be said. His actions last night & his ramblings of crap that continued to come out of his mouth last night proved that he is NOT a good, Southern, Christian man like he says he is. I have a feeling that Emily will keep him around because he does have that sort of "bad boy" persona about him. & let's all be real, we girls love a good chase even if it is after a complete tool bag!
5. I started to tune out when it came to the 2 on 1 date. However, HOW awkward is that they were in a cave to have dinner & they were practically sitting on top of each other!? I mean really!? I didn't think there was much of a connection between her & either of the guys but, then again I'm not Emily. I tuned out so much that I can't even remember their names.
That's all I've got to dish about for this week!
Be sure to check out
Meg's space
& join the link party!
Also, wish her a Happy Birthday while you're there! :)
Matt & I are leaving veeery early for the beach tomorrow morning so, I'll see y'all next week!
Not to worry though, I have some FABULOUS ladies lined up for y'all to meet!
Have a great week!
XOXO,
Shayna