Hey y'all! Happy Friday (the 13th)!
Does that spook anyone? It doesn't me really - just another day!
Whew! I am so glad it is Friday & the weekend is finally here!
Being out & about 3 nights in a row has taken its toll on me & I need toothpicks to keep my eyelids open!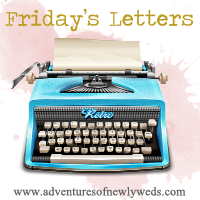 Dear Sunday, please get her quickly but, not quickly so that we can have our meeting at the church & hopefully pin down a date for our wedding!
Dear Sleep, You should know that you truly are special to me & a necessity in my life. I know I've neglected you this week but, I promise we'll be reunited tonight!
Dear Bingham, I'm sorry that your Dad & I have been MIA this week. Your dad's friend was in town & since we won't see him for another year we had to go out & have some fun with him. We I promise to take you to the doggy park this weekend for some fun quality time!
Dear Work, I'm grateful for you & the things that you provide however, I am over you. Which really stinks because I have to work overtime this weekend. Boo!
Dear rude lady in the drive through who was yelling & honking at me for taking too long, I hope that you enjoyed your breakfast meal that I purchased for you. Maybe, hopefully, next time you will think before yelling at someone for taking too long... or what you thought was too long! & Please, be sure to pay it forward. #ThanksSoMuch
Dear Family, I am ready to see you all next week. Although it will be a bitter-sweet time it's always great to be around the ones I love most!
Dear Readers, Thank you for sticking around here! Y'all got the hampsters moving again & gave me some great ideas for blog topics this week! Also, y'all may or may not have seen by now but, I am at 99 followers via GFC. Once I reach 100 I'm planning on hosting my first give-away! So, tell you friends to stop by & check out my place! If they like it they can stay a while & we'll all enjoy a fun give-away!
Hope y'all have a great weekend!
XOXO,
Shayna