HELLO! Today, I'm dragging a little bit because we did not get home from Top Golf until veeery late last night. Turns out they do road work during the night so on our way home from Dallas we were stopped/very slow rolling for 45 minutes!!! Do you know what that does to a girl who has to be at work by 7 am!? Nothing really except make me very tired & sweet tea is a must have in the AM!
The guys ready to play!
& then I beat Matt on the first game... 3rd place isn't too shabby! Sorry babe! :)
In other news, WHO watched the Real Housewives of Orange County, Reunion Part 1 this week?
Let's start off with Gretchen & Alexis' friendship... or lack there of these days. Going back to the trip they took to Costa Rica. I really don't think it was necessary for Gretchen to jump in & agree with all of the other ladies. I get that if you're friends you should be able to talk openly about anything & everything. However, I don't think joining in with the rest of the gang to tell her how fake & phony she is was the right time or place.
Alexis just doesn't get it. Sort of like her friend Sarah. "What is this world coming to!?"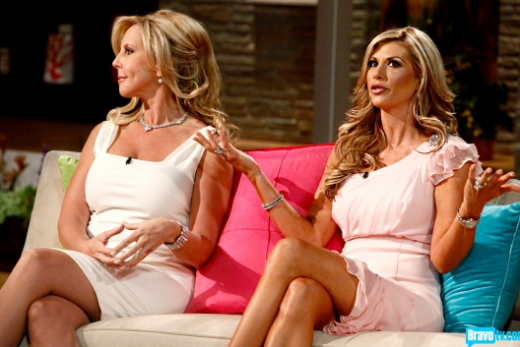 Ahh... there's the Alexis we all know & love!
Moving right along. Let's talk Gretchen & Tamra's newly kindled friendship. This one was a bit odd to me at first. Now, I think it's nice & sweet that they have such a good friendship. It's happened to me that way before. You think you don't like someone or wouldn't get along with them for whatever reason & then when you put all the BS aside, you're actually a lot more alike then what you thought!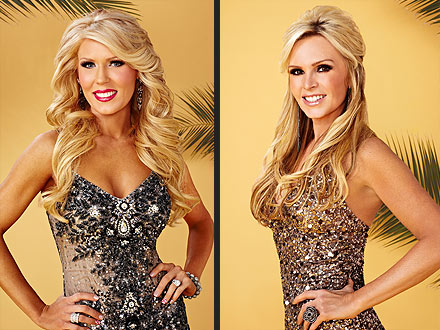 Aren't these two just a breath of fresh air!?
I love Heather & her husband Terry! Even Matt likes them (yes, he watches b/c I watch). Anyways, I just think they are both so funny & the perfect addition to the show! In my honest opinion, I think Alexis is a little jealous of Mrs. Dubrow & how
real
she is. :) Heather had every right to be upset with Crazy Sarah at her name changing party for breaking the piece of bow off her cake! Who does that anyways!? Oh right, babies & Crazy Sarah! I especially loved when Heather told Alexis, "...
Take this as a moment to look inside yourself and see that if everyone says you're dead, it's time to lie down."
It's the truth & Alexis needs to hear it! I have a slight feeling that whole conversation/argument isn't quite over yet.
Aside from Vicki getting into it a little bit with Tamra & Gretchen, I think she stayed fairly quiet on part 1. There's not much to say about Ms. Gunvalson these days. She's a hot mess of woman, going through some hard times in life & thinks she's finally found true love... All in front of cameras on a reality show! Give the woman another glass of wine, she needs it! I'm interested to see if she will ever see Brianna's, Tamra's or anyone's point of view about her low-life, mooching of a "boyfriend"!?
I'm ready to see what happens next week on Part 2 of the reunion!
What do you think so far about Part 1 of the RHOC reunion?
See y'all tomorrow... aka Friday!
XOXO,
Shayna