Hey y'all! HAPPY FRIDAY!!!
Whew! It's been a busy one this week!
Linking up with
Ashley
today for...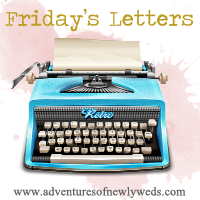 Where should I start here...
Dear Friday, I think you should get a letter every week - you're just so darn special & it's exciting to see you come around each week. So, glad to see ya!
Dear Blogging Friends,
Thanks for your encouraging words
yesterday
- you are all so sweet & so supportive! Not everyday is perfect or easy but, I'm trying & I'll get there!
Dear IRL Friends, This girl is SOOO excited to see y'all this weekend! It's going to be a fun one!
Dear Hilary,
Thank you for introducing me to Overstock! I can't believe what kind of deals are on there & I can't wait to go shopping! CHA CHING!!!
Dear Kohl's, I really hope that you have some super cute boots & great deals this weekend because, I'm comin' for ya!
Dear Roland, I'm ready to celebrate your birthday tonight at Love & War in Texas! It's going to be so much fun!
Dear Fiance, Yes, you too get a letter every week - I love you. That is all.
I'm ready for 4pm & quittin' time! We have a full weekend with lots of friends that I am thoroughly looking forward to!!!
What do you ladies (& gents) have going this weekend?
Hope y'all have a good one!
XOXO,
Shayna