Happy Friday y'all! Can I get a "TGIF"!?
It's been a bit of a crazy week around these parts but, nothing too much a girl on the go can't handle!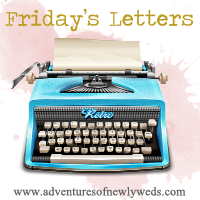 Dear Friday, It's about time you came around again! It's been a long 2 weeks at work & I am more than glad to see you here!
Dear new data system at work, We were told you were pretty much supposed to be the new & improved, top of the line type system. However, you are not. You are very difficult to figure out & we haven't exactly gotten off to the best start. Let's hope this improves, otherwise work will suck from here on out.
Dear bank account, Please grow bigger on your own. Thanks.
Dear body, Why oh why do you have to be the way you are? The amount of effort & work I have to put forth to make you look descent in your birthday suit or swim suit is sometimes tiring & I wonder if it's really worth it. (I know it is, I just wish the results didn't take as long to "see").
Dear Pinterest projects, I'm hoping to complete 2 this weekend while visiting the future in-laws. I'm excited to finally finish you & check those projects off of my want/to-do list!
Dear Aunt Cindi & Aunt Vicki, I am so so SOOO excited for you two to be HERE in 2 weeks from today! I can't imagine trying to go wedding dress shopping without the two of you! I am so lucky & so blessed to have the both of you in my life & cannot wait to share this special time in my life with y'all!
Dear September 1, I'm ready to go wedding dress shopping! Bring on the wedding fun!!!
Dear Fiance, I love you to the moon & back. Thank you for always loving me the way you do! 260 days to go!!! :)
What are you ladies up to this weekend!?
We'll be going west to Graham to visit Matt's parents & hopefully relax a little bit!
Don't forget... I'm hosting my
100 Followers Giveaway
& you don't want to miss it!!! It will close Sunday evening & I'll be announcing the winner on Monday!!! Good luck y'all!
XOXO,
Shayna