Hey y'all! Happy freakin Thursday!
I've been so busy this week but, in a good way. I've been getting dinner cooked at home, wedding stuff checked off of our list, workouts in (mostly) & even made it to a meeting 30 minutes early!
Who am I!?
Just kidding... I've made it a point to get all of this done! (Except the meeting thing... that was a mis-type in my planner so we ended up being early! HA!)
Anyways, today I'm linking up with
Kristen
&
Raven
for
Inspire Me: Healthy
to talk about my "health journey", if you want to call it that.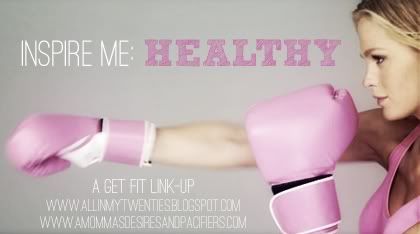 I talked Monday about my daily & weekly plan to get back on track with my weight loss & fitness. Today I want to talk about my goals. I'm a believer in goals & that if you know you want something bad enough, you'll work as hard as you need to to get there.
I've talked about my weight loss & fitness journey here before. I've tried multiple different things to keep myself on track & it seems no matter what, every few months I fall off track! It's very frustrating. So, I'm trying to figure out what works best for me in my life & my schedule.
So, here's my goals...
#1
Track my meals via My Fitness Pal, daily
. This is something fairly easy & I can take it with my anywhere I go since I have the app on my phone. & FYI it's a FREE app for anyone else looking!
#2 Cardio - get cardio in 4-5 times a week. Whether it's on the machines at the gym, spin class, riding bikes or running outside... I just need to get my heart pumping!
#3
Toning work outs
- 4-5 times a week. Y'all have heard me mention
Tone It Up
here before & I
semi
participated in their Summer 2012 Bikini Challenge this year - I'll admit, I fell off the wagon & lost motivation. However, they have some GREAT toning workouts! This month I finally printed off their calendar & it's on the front of my "wedding binder" so I see it everyday & always know what workouts are coming up! I also have one saved to my desk top at work so if I don't have my binder, it's a quick click & I will know what the workouts for the day are. I then either do them at home or at the gym before cardio.
#4
Eat smart
. This is pretty self explanatory & where
meal planning
comes in! I'm not going to kill myself if I slip up or have a sweet tooth craving. I'll simply handle the bump in the road & get back on track with the next meal. Same thing I did yesterday after having McDonald's for lunch. I could barely get it all down & then having to put it in My Fitness Pal - ugh! Horribly depressing! I won't be wasting that many calories again anytime soon!
I think these are all very simple & attainable long term goals. Eventually, they won't have to be goals but, just a way of life & that's the ULTIMATE goal for me!

I think next week I'll be brave & share some before pics! Maybe.
So, have you been on a fitness & health journey?
What are your goals to get fit & healthy?
Go link up at
Raven's place
and/or read everyone else's post if you are needing a little inspiration! There are so many amazing ladies out there!
XOXO,
Shayna