Hey ladies!
Checking in for my second week of Inspire Me: Healthy.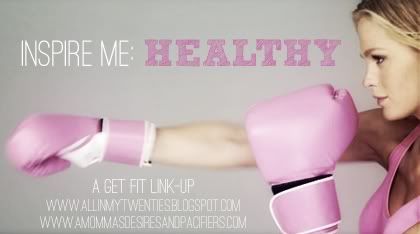 Let me just say that I am in desperate need of some INSPIRATION right now.
I haven't been eating horribly but, not the best either.
Matt & I went to jog/walk Monday night & completed 2.5 miles. THAT felt good & like I had accomplished something.
Other than that, I haven't gone up or forward at all.
Not really sure what my problem is other than I have no motivation.
I've set myself a goal date: October 5th.
My goal weight: 125
Current weight: 132ish
This is the day before our friends wedding & 6 days before our engagement pictures.
I think that if I have a goal, it gives me a purpose & something to work towards. With having set goals, a set date &
set ways of how I want to get there
.... this
should
be doable.
It is doable! I can & I will!
36 days y'all...
36
days!
To transform this body...
Dear Lord... I can't believe I just showed y'all this!!!
& I'm going wedding dress shopping this weekend! Idiot.
However, this just means that I HAVE TO come back with some results next week!
How embarrassing would that be if I didn't!?
(If shaming myself is what gets the weight off, then I will shame myself into a TWIG!)
***Side note: I got up at 5:15 AM this morning & did a quick 15 min. toning workout! THIS has NEVER happened before!
I have to be honest in saying that I'm pretty proud of myself! Was I dripping sweat & killing over by the end of it? No. But, I did get up & get my blood flowing & I've been on a high all morning long! This WILL be happening more from here on out!
What do you do to stay inspired & motivated?
Wish me luck!
XOXO,
Shayna