Happy Thursday chicks!!!
I don't know about y'all but, I'm so glad it's almost Friday!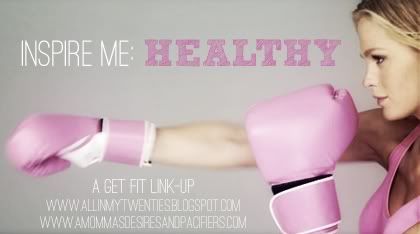 I have to admit, this week has been a little difficult for me. With family being in town & all of the
"celebrating" that was done on Saturday
, I haven't been as strict with my diet as I should be.
But, I've been trying to make healthier choices when possible for all 3 meals.
As for working out... I've gotten in some but, not near as much as I would like.
I am happy to report that I am down 1 lb this week!!!
(Can't tell a difference really so, no pics this week)
I'm not thrilled with my "commitment" this last week. I know I can do better! Starting today (even though I would
kill
for a Dr. Pepper right now) I'm totally back on track with
EVERYTHING
!
Plus, y'all have showed me so much support over the last few weeks & I am so grateful for that! Can't let y'all down!!!
Goal Weight: 125
Current Weight: 131
Days to reach my goal: 29
Eeeek! I feel that number getting smaller & smaller!
How have your workouts been going?
Have you been eating healthy or slacking off a bit this week?
Be sure to check out everyone else's progress over at
Kristen's place
& link-up too! You can talk about anything you want that is health/fitness related!
XOXO,
Shayna