It's been a while since I've chatted about my classy television shows that I partake in each week.
Let's start off with one of my favorites...
Bachelor Pad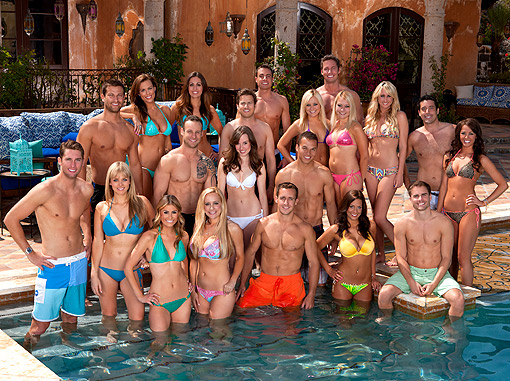 This season has been hilarious & great! Some have brought drama, some have played the game, & some have found love.
Chris not only has played the game but, has also created quite a bit of drama!
I'm so glad that the twins went home so early. I'm pretty sure I would not have continued watching if they were on the show much longer!
As much as I didn't want to like Kalon after watching him on Emily's season, I loved watching him & Lindsey start their sweet relationship!
I really wish Jaclyn & Ed would have been chosen to stay around for the final 4... I guess sometimes $$ really is an evil thing!
Next week is supposed to be one of the most shocking finales of Bachelor Pad & I cannot wait to see it!!!
The Real Housewives of New Jersey
Goodness gracious! With this crew I don't think everything is ever fine. As soon as Teresa seems to be getting things back on track with her brother, sister-in-law & cousins, it goes to hell in a hand basket with her "friends". The cameras have clearly got the best of her & her husband & truly, it's sad to see.
I love Joe & Melissa, they are hilarious. Otherwise, this show is quickly spiraling out of control & I can't help but watch still.
The Real Housewives of New York
Well, well, well... Where to start with this group of ladies? Ramona is on fire this season. I'm glad to see that her & Lou Lou have seemed to hatch things over early this season. Sonja seems to be getting a little more coo coo as the season goes on. As for Heather & Aviva... I'm not really fans of theirs. I was of Aviva at first but, now she's become a pot stirrer. Who doesn't love Princess Carole though!? She's so funny & laid back. Seems super down to Earth & someone you would love to go grab coffee & walk around the city with!
If you're wondering, "Where's Honey Boo Boo?" well, I don't watch that show. (Gasp!)
I haven't ever been able to get into Toddlers & Tiaras & after hearing of everything that goes on with Honey Boo Boo... I just can't bring myself to watch it.
Have y'all been watching Bachelor Pad or any of the Real Housewives shows?
Do you watch Honey Boo Boo? If so, what keeps you coming back?
XOXO,
Shayna