Happy Friday friends! I'm so thankful that Friday is finally here! We have a fun weekend ahead... one that might include friends, wedding vows, friends, skeet shooting, good food & pumpkin patches. Oooh I just can't wait!
Linking up today with Christina, Natasha, Darci & April for Five on Friday!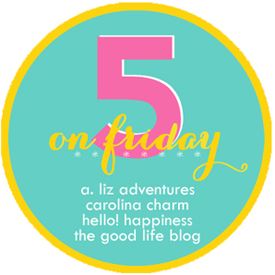 One - I finally placed our pumpkins on our front porch this week & I'm loving them!


Two - The weather is cooling off even more this week here & that means I've been able to bust out my tall boots!!


Three - Target Dollar Isle... I tend to do pretty good about staying away but, ever since Fall has come around, I... I just can't! It started when I was getting ready for my Dad's birthday. Earlier this week I stopped in & grabbed a couple adorable Fall pillows! Y'all see a pattern here??


Four - Speaking of pillows, I found this fun one at Hob Lob the other day for 50% off! I couldn't pass up a great deal!! I might also have an obsession with pillows! I'm trying to find new ones for the living room... one by one I'll eventually fill the couches! :)

Five - I know the Tim McGraw song Southern Girls has been out for a bit, but I just can't get enough of it. Every time it comes on the radio I just have to crank it up & sing my little heart out! You should try it too!


Happy Friday y'all! I hope you have a great weekend!!!
XOXO,
Shayna