Y'all, it's Friday! (Obviously!) But for real, it seemed like at least the beginning of this week just druuuug on forever! However, we made it to Friday & for that I am happy, happy, happy!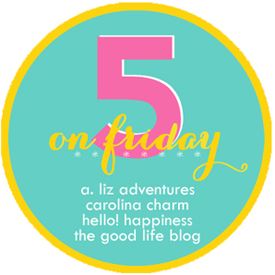 One
- I have a confession to make... I was at Target earlier this week & was quickly going through the clearance isles. You know, the ones that are in odd spots at the back of the store on the end caps? Yeah, those clearance spots. Well, I found some awesome pillows for our big couch!!
Yes, more pillows!
They're totally different than anything in my house (or that I've ever owned for decor) but, I love them! & the fact that they were just $10 each!? That much sweeter of a deal!
Two - Apparently I'm on a deal finding streak this week... Yesterday I walked into Marshall's in search of some decor items for our house. On my list was a large chalk board or large frame I could DIY into a chalk board. Literally the first thing I saw was a large chalk board! I'm wanting to stay within a descent budget for the rest of the items I pick up & was pleasantly surprised when it was marked down to $20! Come home to mama!!!
I'll be putting an additional coat of good chalk paint on & hanging it in it's new home soon!
Three
- You can go ahead & call me Betty Crocker! Last night while dinner was cooking, I started making breakfast for today. I've been dying to make
these Yeast Free pancakes
& I finally did! Matt & I tried one just to make sure they really were good & Oh. Ma. Goodness!! So, so good! Thanks to
Steph
for this yummy recipe!!
Four - This weekend we're off for another round of birthday skeet shooting. Is there a pattern here?? Pillows, guns & beer?? Two weeks in a row!? To make sure we celebrate right, we picked up one of our favorite Fall beers (Shiner) & one we've never tried (Sam Adams). What's your favorite Fall beer??
Five - This bargainista is getting back at it today!! I'm going to see if the shopping gods are with me one more time on my lunch break... I'm headed to the antique store to (hopefully) find some picture frames & flatware for house decor! Wish me luck??
Hope y'all have a fantastic weekend!!
XOXO,
Shayna