This week has been one. hectic. week. at work. It's been one productive week at home though which is always awesome!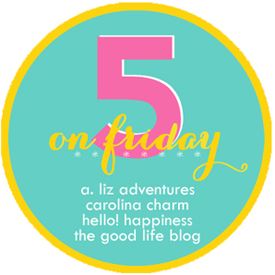 One
- As mentioned above, it has been a super productive week on the home front. Yes, I do the normal stuff of cook dinner, clean house, etc. but, two nights this week as soon as I got home I was in a race with the sunset! I was finally able to work in the yard a little bit, clean up some falling leaves, acorns that the darn squirrels insist on pelting our cars with and anything else that needed to be cleaned up... our yard went from skanky to acceptable!... Now this morning it is
covered
in leaves again! HAHA!
Two
- It's official... the weather has turned cooold & it's supposed to be all kinds of nasty weather this weekend! Which only means one thing... CHRISTMAS DECORATING!!! Being that we're in our new house this year, I can't wait to decorate in new ways with my new & old decorations!
Three
- It only took me 6 1/2 months but, I have finally printed off wedding pictures!! Will be updating our gallery wall this weekend with all the new prints! Check back Monday!!
Four
- This Winter season Ft Worth is getting it's very first outdoor skating rink!!! I have not been ice skating since I was a little girl so, when I found out about this ice skating rink I got all kinds of giddy & nostalgic!! My girlfriends & I already have plans for a big group date with our guys in December but, I might have to go before then too - I'm just SO excited!!
Five
- Last week I caved for the first time this season & went to Starbucks!
It had to be documented!
Can you believe I waited so long??
Hope y'all have a great weekend & stay warm!!!
XOXO,
Shayna