Happy Friday y'all!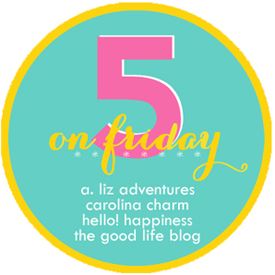 1. We are 10 days into our 30 day challenge at work & so far, I'm doing pretty good! I've only had to put in $7 & 5 of it was from last weekend! HA! But, I've done good since last Saturday so I'm giving myself a pat on the back!!
2. Staying on track this weekend might be a little hard because we're celebrating a special guys birthday! Matt's birthday is Saturday & we're going to dinner with our parents tomorrow & Top Golf on Saturday! Can't wait to celebrate my favorite guy!
We won't be in Vegas but, it will be close
3. I've never been much of a reader - not even big on gossip mags or anything. But, I guess a new year can bring on many new things. For Christmas Matt got me The Happiness Project - he said he was a little concerned with me requesting a self-help book but, I've heard so many good reviews on it, I wanted to see what it was all about. Since the new year I've ordered 2 more books from Amazon... Who am I?? I'm excited to dive into all three books though!!
4. We'll soon start tackling remodeling the back half of the house - bedrooms & bathrooms. The first room we're doing is currently our catch-all room/extra closet for moi. Once we're done it will be turned into our home office/craft room. Here's what I've pinned for some (pin)spiration...
5. I don't really have a "5" for today so, I'll leave you with one of my most favorite old school Pat Green songs! Happy Friday y'all!!


XOXO,
Shayna