Happy Friday friends & Happy Halloween!!!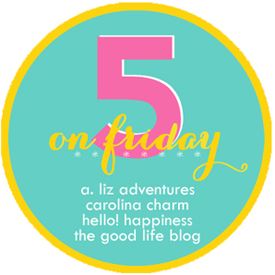 One
- Thanks to Ms. Christina herself & her
super easy DIY
, this pumpkin shirt is a super fun maternity option for a Halloween costume! Thanks for all of the love from sharing it on my
bumpdate
& Insta as well!
Two - I'm excited to be celebrating Halloween tonight with friends which gives me the perfect reason to whip up the oh-so-delicious Pumpkin Dip! If you haven't made it before, run to the grocery store on your lunch break & get the simple ingredients!
Three - Confession... So, it's October 31st & I still don't have my Fall wreath up yet! I actually had a really great idea of having it up by Wednesday or Thursday & sharing the finished product with y'all today... #bloggerfail. Let's cross our fingers I'll get it done over the weekend & can share with y'all on Monday!! (Please tell me I'm not the only one who's slacking this season?? Haha!)
Four
- My
2015 planner
came in earlier this week & I cannot be more excited to start jotting things down in it... Liiike, our baby shower date & umm... my DUE DATE! I picked out the same planner that I've used this last year & it really is the perfect planner,
for me
. Last year I purchased it at Target but, haven't been able to find it in the store recently so, I went to their website & purchased it straight from there! I plan to share more about the planner in another post but, if you're in the market for one check out
Orange Circle Studio
!
Five
- Miss Pink Lou Lou shared
these boots
recently on Insta from Red Dress Boutique & I cannot get enough of them! They are officially on my birthday/Christmas wish list...
hint hint... Husband, Dad, Brother....
:)
Hope y'all have a great weekend!!