Happy Friday friends! It's been a busy, productive week in the Yancey house so, I'm happy to see the weekend come. It's filled with plenty to do as well but, being able to get out of the city for a bit & seeing good friends makes it all something to look forward to!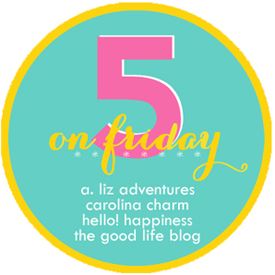 One - With the DVR we don't watch a lot of commercials but, this Geico one that Matt made me watch one evening literally makes me LOL every time I see it! Therefor I think you should watch it too if you haven't already!
"Whoo! Get some cold cuts! Get some cold cuts!"
Two
- Yesterday Meg shared her favorite
cheap makeup items
. If you don't know by now, I'm a bargainista through & through so, this post spoke right to my heart! I've already pinned this & can't wait to do a little shopping this weekend...
err maybe on my lunch hour today
! Because of course I'm out of multiple makeup items all about the same time - How does that always happen??
Three - This last February I bought this aztec cardigan at the stock show but, never got the chance to wear it. Now with the weather turning a bit cooler I've been able to wear it a couple of times & I really love it!
Four
- Did you know that you can now follow
The Fancy Yancey
on
FaceBook
? It's true! Feel free to "like" my page & say HI! If you already follow along there, thank you!!
Five - Last night we tried a new chili seasoning/recipe & it was really good! A little spice & great flavor!
Ingredients
1 lb Ground Beef or Turkey
McCormick Chili mix
1 Can Kidney Beans
1 Can Diced Tomatoes
+ Brown meat in pan & drain grease.
+ Add the Kidney Beans & Diced Tomatoes - both undrained
+ Bring to a simmer & then cook on low for 10 minutes
+ Add cheese or sour cream & enjoy!
Hope y'all have a great weekend!